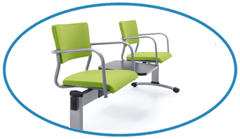 There are many ways that an office space can be maximised – all of which can be achieved by using the correct office furniture to best suit your needs. Beam seating is a great way to maximise your space as it accommodates for multiple people at a time. This range of seating is extremely versatile with a selection of finishes to choose from. Whether it's a waiting room or reception area you're looking to furnish, Radius Office Furniture has a wide range of beam seating suitable for any office environment. Designed to free up maximum floor space, beam seating is useful for meetings or special events, they are also designed to take up the least amount of storage space possible.
When holding meetings with colleagues or clients, it's important that the seating you offer isn't only comfortable, but practical too. Same goes for waiting room/reception areas. Radius Office Furniture supplies a wide variety of beam seating (ranging from 2 – 5 seaters) that cater to the needs of their clients. Seats can be upholstered, plastic, fabric, mesh back or wooden and come in a wide range of colours ranging from vibrant orange, blue, red, green to more subtle colours like black, white, brown or beige. This enables you to design a chair set that is entirely unique to your office. The materials used in our seats are easy to clean so you can quickly prepare for next group of people to come in. Our range of beam seating can also come with or without a table or with arms or without arms for ease of entry and exit to suit your preference. The frames are available in chrome, black or metallic while some beam chairs are available with hard glides for soft floors and felt glides for hard floors.
Free Delivery Throughout the UK*
*We deliver furniture and equipment to addresses throughout the UK and offer a complimentary free delivery service for all orders made online. Offline orders are quoted on a case by case basis.